It might look like magic, but it's actually just brilliant design. Worldscreen motorized solar shades and blackout shades control light and temperature while blending into exterior architecture or interior design. Worldscreen president, Mr. Stephen P. Lukos, has four patents and one patent pending for two sizes of MicroCassettes that allow us to condense our product into a discreet headbox that occupies minimal space.
Our more compact design, the MicroCassette 40.16, has a headbox that is only 3 1/8" square but contains a shade of up to 40 feet wide and 16 feet drop.
The larger MicroCassette 40.30 is only incrementally larger, at 4 1/2" square, and it contains a shade of up to 40 feet wide and 30 feet drop.
Worldscreen offers a clear alternative.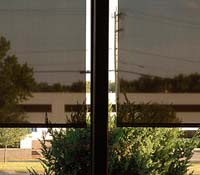 As few as three people can install our MicroCassette 40.16 or our MicroCassette 40.30 without special equipment. One motor controls a width of up to 40 feet, saving the cost of additional motors and wiring.
At right, view one of our competitor's shades, with unsightly fabric splits. Worldscreen goes the distance.